Electrical, Instrumentation & Analyzers and Mechanical Maintenance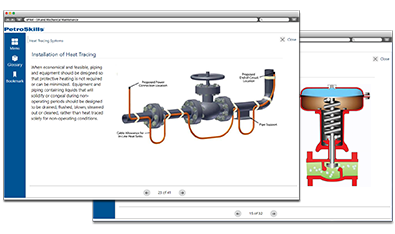 This Operations and Maintenance series is complementary to the ePilot™ Core Competency library with a significant electrical
content, expanded instrumentation, and basic mechanical equipment maintenance. The library is more than 250 hours
of web-based e-learning modules available online, anytime and anywhere, and is designed for operators and craftspeople across the value chain.
Learning content is geared toward adult learners and is presented using interactive charts, engaging 3D animations, videos, and easy-to-understand graphics. Content includes process flow, process chemistry concepts, equipment configurations, and process hazards.
Electrical, Instrumentation & Analyzers topics include:
Actuators
Analyzers
Electrical Components
Electrical Fundamentals
Electrical Systems
Measurement Devices
Switchgear
Tools and Test Equipment
Mechanical Maintenance topics include:
Alignment
Bearings Maintenance
Fasteners
Fundamentals
Lubrication
Pumps and Compressors
Stationary Equipment
Tools and Test Equipment
Valves
What do you get with
ePilot e-Learning?
Over 50 million course hours of training delivered at over 500 sites worldwide means our e-learning libraries represent the gold standard for knowledge transfer in the oil and gas industry.
Reduced Time to Competency
Knowledge gaps and competencies are quickly identified and addressed with personal learning plans so that learners achieve 100% proficiency more quickly without redundant or unnecessary training.
Flexiblity
Access training anytime, without added travel expenses, anywhere you have web access.
Site-Specific Customization
All content can be customized to meet site-, unit-, and job-specific needs.
Continuing Education Units
PetroSkills | RDC Solutions is an accredited provider of IACET CEUs for successful completion of ePilot courses. Learn more>>
Achievement Certificates
Learners can earn Certificates of Achievement and hard hat decals for their hours of successful course completion.